I was so happy to catch Supernatural filming an episode that I think will be my new favourite once it airs. It's already the most anticipated episode for me because it's a episode about bashing Vampires from popular series like Vampire Diaries, True Blood, & Twilight. I think it's LONG overdue! (lol!)
I first arrived on set in the morning in Downtown Vancouver they were still setting up and after talking to one of the crew guys it was clear that they weren't going to start filming for a few hours. So we left and came back at around 4:30 and some fans were already there waiting. The first thing I noticed was the fake street lamps (Which I like to call "Castiel Lights" because they always use those in Castiel scenes). It was mostly inside shots for the hours we were there. I sort of got a little peak into the spot they were filming because they had the door open. Not sure if there using the exact stuff i saw but it was like a balcony with a giant clock hanging off the side of it. It looked interesting!


We were able to stand off to the entrance to the alley they were filming in. Mitch Pileggi was just hanging around the alley with the crew just chatting for a few hours. He came over a talked to us for just a minute, he was very nice guy, and then left back into the alley. For most of the night we talked to the crew... they were extremely nice and entertaining!
Saw Jared & Jensen a little bit in the day time. They were mostly going in and out of the building they were shooting in and stopping for a few moments to talk to Mitch and some crew.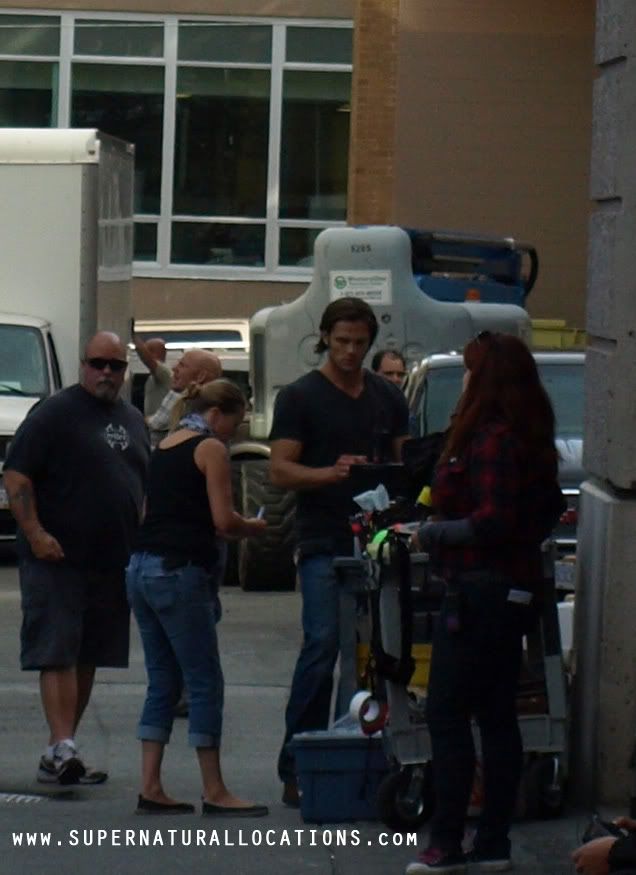 There were a lot of extras in the alley waiting for there shots. There was one in particular that made me explode with excitement. He really stood out amongst the rest and was familiar looking. Then I remembered... This is mostly a twilight spoof... They had a awesome Edward Cullen look like! I couldn't stop laughing! Then there was a spoof Bella Swan with him... I later asked one of the crew if they could tell me what there names were going to be in the episode, Because I didn't think they were going to use "Edward & Bella" I was told there names were going to be Robert & Kristen!!! (as in the Twilight actors Robert Pattinson & Kristen Stewart!)


Then there was suddenly this group of girls that walked onto the set... They all walked in together it looked like a scene out of mean girls, just slow it down and add music...lol They looked like they were either the Slutty Vampire Chicks or Twi-Hards lol


The rest of the day was mostly just us talking to the crew... Then they began to set up a new scene. The crew guy said if we went on the other side of the alley we could probably get a better view so we head over there. One they had all the equipment set up they started the scene. It was Jared who was holding a bloody knife & Mitch in a red van with, what I think is, a Vampire on the roof laying there.  They did a few takes of the same scene doing different things. First Jared pretended to throw the Vamp off the car and onto the ground. I think he mimed it so they could CGI him throwing someone onto the concrete. After he threw him onto the ground you hear a "hey!" coming from the alley and Sam & Samuel (lol) go running through the alley. Then they did a shot of the guy sliding off the car onto a mat on the ground (He missed the mat and his chin hit the ground but he was fine but everyone gave him an applause). Then they did a shot from the inside of the car with a crew guy pouring blood off the car, assuming that's supposed to be the blood of the beheaded Vampire


Heres a Short Video of one of the scenes they shot Posted by JDH1973




The Next shot was back in the alley so we went to take a bathroom break and on the way we stopped and got some shots with the Impala (just it was there!! lol) For two of our entourage that were visiting Vancouver from the Convention, it was there first time on set and seeing the impala so they were so excited to see and take pics with it. Heck, no matter how many times I see it it still excites me! :-)
After they did that they did a few shots of the fake "Edward & Bella" doing a scene in the Alley with actor Joseph Reitman (@JoeUgly on twitter). We couldn't watch what they were filming because the shot was facing out the alley so we had to hid behind the wall.


But then the "Blood Donor Truck" came through... Then I'm like "oh god....Don't you know you shouldnt drive a blood Truck through a dark alley were Vampires are!?" haha. After that (at around Midnight) they were done and started to pack up... So it was our time to leave. Best set experience ever! Thanks crew peeps! You made our night soooo awesome!!


 MORE PICTURES HERE!

LEAVE A COMMENT!